With the kind consent of the friend mentioned, I post the following exercise in "radical presence", or staying sane in spite of the craziness…
Bubbles of thoughts are rising through the viscidity of my mind, drifting from side to side, now tending one way, now tending another.
Feels like a relapse of that FUO (Fever of Unkown Origin, although there're more vulgar interpretations of that acronym too) that looked and acted like viral meningitis. This time, I have a thermometer so there's something I can document. It's less than a few weeks after the first case, so this is not good.
So far, though, no vomiting!
While recovering (barely) from the first bout of this, I met with one of my excellent friends, the one who's going to make decisions for me if I can't make them myself. We first met during one of the most effective times in my life.
She spent much of the recent visit picking up after me, getting the tea I forgot, making sure everyone got fed — the ideal hostess, really. Too bad that was my job. I was a good small-party hostess at one time.
For obvious reasons, given her impending status as my health care proxy, I need her to be able to tell me how I'm really doing. There was a time when full anesthesia and industrial forceps were required to make anything that wasn't kindly and flattering come out of her. She'd almost rather lose a limb than lose her manners.
So, testing the waters, I asked if she found me a bit daffier and more disorganized than I used to be.
I'm so proud of her. She gave me a somewhat verbose "kind of" … then gave me an eyeball-to-eyeball gaze of love and torture, which I'm pretty sure meant, "It shreds my being to see you like this, but somehow I have to breathe and keep going, and I promise you I will, no matter how hard."
Such a friend can't be described, only experienced if you're insanely lucky.
I rarely look back. There's no future in it. However, the memories I usually keep firmly in the rear-view mirror haunted me for days, as bright as if they were klieg-lit.
Teaching her to run effectively under the redwoods. She was a quick study, all right. I was getting sick, so the fact that she could lap me in less than a year is probably not something I should feel too bad about.
Trying very hard to talk her out of medical school, which I was pretty sure would embitter her extraordinary sweetness and distort her self-effacing diligence. In the end, it gave her mind and heart a stronger shape.
Researching and working together on user interface guidelines, which made most senior engineers effectively beg our blessing on their designs — as they should!
What it was like to ask my quiet, courteous friend a music question, and have her snap upright, point snappily to a chair, and snap, "Sit." Then give lively, passionate, 20- to 40-minute illustrated lectures on music theory that enrich my life even now. (I did much the same thing for her health questions.)
On a related but more self-oriented tangent, remembering what it was like to keep over 230 threads of information going simultaneously in my head, switching threads from meeting to meeting and file to file. I tracked the early course of this disease by when the number of thought-threads went down. I was "laid off" when I could only maintain about 90 different threads in active memory. I was crushed by that figure.
Remembering what it was like to run through the redwood glen at dawn, the scenery and birds staging a daily spectacular just for me.
The last walk I took on the mountain tops, when every bit of exercise just made things worse, but I had to say goodbye to the wild open spaces.
The curling breezes change direction again.
The wasps are too quiet. I turn my head to follow them and warn them away, and the world seems to slip off its stand then right itself again, and the quiet singing in my ears rises to a sharp chord then slithers down again.
Having a frying brain is like living in a hallucination at times.
This post is a little diaristic, but it serves a purpose beyond easing the pressure in my head. You'll see.
The hundreds of little mercies that keep me going cluster around. The air here is delicious. The trees are fluffing their leaves in the curling breezes. J is quietly rattling around inside, scared in his ignorance of my illness and memories of losses, but keeping a good face on and making sure that I hydrate. The birds are mulling the possibility of rain, but it will hold off a few hours. The sun strokes my head with a long hand.
I breathe, and the world settles down.
A few days ago, I had a wonderful insight about the way that many bits of my past are getting referenced in the present somehow, and how, rather than highlighting my staggering losses, they fit together in a way that draws me onward.
That's all I can remember, though. I think most of the ideas poured out of me last night as I sweated with the fever I forgot to document.
Drifting first one way, then another.
Must remember to inhale when getting up. It's the only way to keep my head from wanting to explode, and clutching it doesn't really help.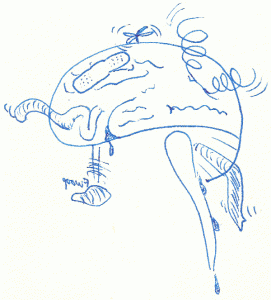 Normally, a good idea like the past-reaching-forward-and-propelling-the-present would come back to me with sufficient prompts. Not the way things work anymore. Once it's gone, that's it, it's gone. I've learned that the hard way, over years and years.
However, do I need to remember the examples and details? Or do I just need to remember that feeling of a rising tide lifting my weary, worried ass?
Just because I don't understand how it all fits together, does it stop being real?
Medicine is real, neurology is real, and I defy absolutely anyone to say, hand over heart, that they really, REALLY understand those. Yet, they are real just the same.
I'll allow myself to be carried onward by the memory of the idea, even if I can't remember why it made sense.
For now, it's time for more lie-down and seltzer.
Small moves. Just like steering a sailboat. Small moves get you where you need to go, without steering wrong. Now, seltzer. Later, rest. Then, we shall see.