I walk everywhere I need to go. I finally tried the bus, and honestly, it could have been worse — but the base of my spine is still not prepared to put up with more than about a mile of that banging.
The problem with walking is that my legs are getting really good at "Burning Bones" — one of those trippy CRPS nerve games where it feels like the bones themselves are covered in & consisting of fire.
I used to wonder what burning bones were like and felt lucky for not having experienced it — and highly inclined to keep hammering massive doses of D3 to keep my blood levels in normal range. (D3 helps keep calcium in the bones & teeth, where it belongs, and prevents excess calcium from causing nerves to misbehave, among other things.)
Well, this clears *that* up! I know exactly what burning bone pain feels like now. But still, I'm well aware it could be so much worse: I just get little yellow flames, not big blue-based barn-burning flames. Those are definitely worse. I don't know if I could keep walking through big blue flames.
Do I walk through the little yellow ones?
Go on, guess.
Carrying the bag I use as a purse adds a few pounds to the load on my legs, hips, and knees, and a bag or two of groceries adds about another 10-12, however carefully chosen they are for weight.
Plus, I've been slinging those from my shoulders — better than a backpack, which puts the stress right across the anterior nerve plexus for the shoulders, but — as we say about little yellow flames for bones — is, um, less than ideal.
I have tried every grocery cart conceived of in the last decade. The vibration on my hotwired palms is like hanging onto a working jackhammer covered in razorwire. (I don't recommend doing that, however much you want to see what this is really like.)
I stared longingly at jogging strollers all year.
I designed my own grocery conveyance, priced the parts, and realized I had just designed a jogging stroller and it would cost about as much.
I haunted Craigslist and Freecycle for weeks, until an add for a Schwinn jogging stroller popped up.
Is that a cushy push or what? 😀
And, guess what, it has pockets! — I mean, cupholders! (Cupholders are definitely the pockets of non-clothing items, say I.)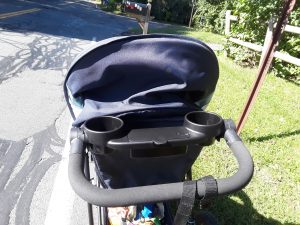 For once, I kept myself from saying *just how much* this means to me and why, because who wants to hear sob stories, right? I handed over the very reasonable sum, thanked him 4 times but not nearly enough, and sailed away.
Even though my legs are starting up the burning bones awfully quick today, in every other respect I feel like I'm walking on air.
I can pick my own *groceries*! OMG!!! And *get them home* with minimal further damage! WOOHOOO!!
Life is good.
Thank goodness for that sweet family who let this go ❤, and for craigslist.org for linking our complementary needs.