I view a recipe strictly as a starting point.
To some, recipes are instructions to be followed. That's probably very wise.
To me, they're a series of friendly suggestions, and every ingredient (except baking powder) has the unspoken caveat, "adjust, substitute, or mess with, to taste."
The recipes I post are decidedly Isyan recipes. Even if I haven't made them yet, I've made many similar things over the years, so I know they're in the right ballpark. If you'd like to use them, please do — and realize that every ingredient here carries the implied caveat, "adjust, substitute, or mess with, to taste."
With good ingredients, you can't go too far wrong.


When it comes to canning and preserving, I do what I do, but I suggest you follow the instructions you can read at any credible site on the subject. The USDA guide is here.
Cyano-berry Brain Booster
The point of this is to provide a stonking great dose of those anthocyanins and antioxidants which have consistently demonstrated that they help my memory and thinking. This is not desserty at all. I think it makes a great breakfast.
Ingredients:
2.5-3 oz dried organic schizandra berries.
1 Qt/Liter organic concord grape juice.
1 small finger (~1-1.25 inch [~3cm] long piece) fresh ginger, or equivalent powder, to aid digestibility.
2 Tablesp (rounded palmful) ground clove.
1 Tablesp (scant palmful) ground cinnamon.
3 Pounds/1.4 kg wild Boreal blueberries, wild (farmed) blueberries, organic currants, organic bilberries, or the most nutritionally dense, fresh or frozen dark-blue berry you can get your hands on.
3/4-1 C (6-8 fl. oz., or 180ml-240 ml) non-osmosed maple syrup (see note below.)
1/4 C (60 ml, or slightly overflowing palmful) ground chia seed.
Preparation:
Put the schizandra berries into the grape juice. Write the date on the bottle, along with the date 3 weeks on, and stick it in the fridge for 3 weeks. The rest of this waits until the schizandra berries are thoroughly steeped.
When you're ready to make it all up within the next half day, then blend the berry/juice brewage until the schizandra seeds no longer sound like grit hitting the blades, but like very fine sand. Give it at least one minute. (I wear ear protection for that part, or leave the room.)
Grate the ginger fine.
Grind the chia seed in a spice or coffee grinder.
Rest if needed, then aim to finish the tasks below in one session.
Making and canning:
Put 6 quart bottles and new lids into a deep, lidded pan. Once they have boiled for the recommended length of time, you can turn off the heat and leave them there, good and hot and covered.
Combine the ingredients you've already prepared in a large pan. Add the spices and maple syrup. Mix everything well, so the spices are thoroughly incorporated. Add the maple syrup and blueberries. When it starts to simmer, turn the heat down to keep it simmering and stir the chia in, mixing well. I leave it loosely covered and let it cook for 5-10 min. I want to preserve the anthocyanins and the volatile spices, after all, not boil them to distortion and death.
Set the jars and lids up so it's easy to transfer stuff from the pan. When you fill the jars, leave headroom — don't fill into the neck. Try to keep anything off the lips of the jars.
Use your favorite clean absorbent material to wipe any dribbles or slurps off the lip of each jar. Each lip should be absolutely perfectly clean, with nothing to interfere with the seal you're about to create.
Lid, band, and tighten each jar. Return them to the pan they boil in. Boil according to your canning instructions.
I actually boil them for about 5 minutes — this is just clean fruit, with preservative spices. I've had no problems, except for one batch that didn't get the final boil because the fuel ran out. It got a bit fizzy after awhile, and wound up giving me half a quart of the best sparkling spiced-blueberry wine ever, plus half a quart of inedible spiced-blueberry sludge. Overall, a happy accident 🙂
Equipment notes:
I wash everything well, with hot water and soap, before I even boil it. They always put seizing of some sort on new bottles and pans. I can't stand the taste, and I can't say it's likely to be good for me.
Ingredient notes:
Clove is a shockingly strong antioxidant and it helps reduce nerve pain. Having said that, it also has a very strong flavor. If you're not extremely fond of it, that's the first ingredient you'll want to adjust. However, I love it, and I can eat this stuff day after day.
Schizandra berries are called, in Chinese, "Five-flavor berries." They incorporate the flavors of sweet, sour, bitter, salty/savory, and the fifth flavor we don't have a word for in English, but if you mix fresh-dug peat with barley malt and plum paste, you're probably close. I happen to like them, but I'm notoriously odd — and internationalized. There's no question that they're amazingly good for the brain. Try them and see. I prefer them to goji berries by a long way, and a lot of people can choke gojis down.
Maple syrup is not what you might think these days. Traditionally, sap is collected from sugar maples during the first real warm spell in early Spring.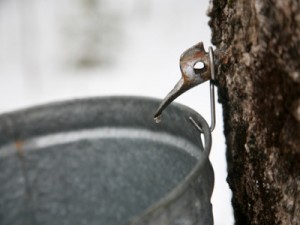 It's then simmered down to syrup consistency, and the scent of it can drift for a mile downwind…
Most modern producers use reverse-osmosis filtration to reduce the volume of the maple sap, sucking the minerals and much of the flavor out of it, then boil the remainder just enough to say they did. The filters themselves are considered so toxic that they have to be sent to the landfill; all those wonderful minerals that get caked up on it are considered to be no longer fit for human consumption, and must not be used for anything that might possibly wind up in the food chain, according to a representative from one famous and otherwise delightful sugarhouse.
In the end, with reverse osmosis filtration, you get expensive brown sugar syrup, without the kick or the minerals of maple syrup. It all tastes much the same — like good brown sugar made into syrup. Traditional maple syrup, on the other hand, has "terroir", just like wine. Its flavor varies from place to place, depending on the soil, water, bedrock, and microclimate. The Shelburne/Heath terroir has a refined floral foretaste that has to be tasted to be believed. Right over the ridge, in Ashland, the syrup has a deep earthy note like really great whisky. How awesome is that, eh?
The natural/organic syrup producers I wrote to are fine with the highly artificial process of reverse osmosis, as it saves fuel, which reduces their carbon footprint. Standard practice in that group seems to be to osmose the sap until it's about a third or half the volume ("two passes") and boil it down the rest of the way. They "feel" (this tells me that they didn't get out the test tubes and check the nutritional changes) that they "retain the best of the flavor and nutrition of the syrup." They really don't — I can always tell when it's been osmosed, and a few years ago I went taste-testing hundreds of miles through prime sugaring regions to be sure. I dropped a lot of money on tiny little sampler bottles just to make sure I was not imagining things.
The real test is this: the maple syrups I got from standard supermarkets, Trader Joe's, and Costco made me hurt. The maple syrups I get from my producers who boil it all the way down does not make me hurt. So, as far as I'm concerned, reverse osmosis either puts something in that hurts me, or takes something out that stops the hurt — but, in either case, osmotic filtration hurts me, and I'm not going to pay money for that.
I use maple syrup in order to have a nutritious, painless and digestible sweetener, so I want the stuff that still has that nutrition and digestibility. It's a bit pricier than the osmosed stuff, but a pain-free gallon lasts nearly a year in my tea and occasional grain-free pancakes, so it's money well spent.
Buyer beware. Call and ask the producer if they use reverse-osmosis filtration, or if they boil the raw sap all the way down. I don't recommend discussing it, just asking… New Englanders are not easily persuaded. They're generally realistic and decent, though, so if the producer you call uses reverse osmosis, ask if they know someone who doesn't. If they know someone, they'll tell you. They might even get you their number.
I got my last good, fully-boiled-down batch from a friend of a friend: Jerry Smith at Deer Ridge Farm, 4057 Hinesburg Rd, Guilford, Vermont, (802) 254-3540.

View Larger Map
He's on country time, so be ready to call and remind him to post your package if you don't see it in a week.
Most of the fully-boiled producers do NOT seem to be part of industry groups (e.g., the Massachusetts Maple Producers Association, where I wasted a lot of time contacting members only to find that all those who bothered to return my messages used reverse osmosis.) They're just farmers who happen to have sugar maples and some equipment, to keep themselves from getting bored during "mud month." You have to be there to find them — or have good connections, like me 🙂 If any of you New Englanders or Canadians have other fully-boiled-down producers to recommend, please do — the more, the merrier, and it's good to have fallbacks in a weather-sensitive and seasonal industry.
Note on posting: Priority Mail Flat Rate boxes are the cheapest way to ship heavy things like quarts or gallons of syrup in the U.S. If you need to use international mail, better figure out your best strategy for that ahead of time, since that isn't in a rural U.S. farmer's normal frame of reference. A quart of syrup weighs around 3lbs 2 oz (1.45 kg). A gallon weighs around 12 pounds (5.45 kg). These are not exact, as weight varies slightly from batch to batch. It is, after all, a handmade product.
Carriers who ship outside the U.S. include the United States Postal Service, DHL, Fedex and UPS.