I'm too conscientious a historian to call it Indian summer, when the normally pleasant California shoulder season turns murderously hot.
I'm cleaning up, getting rid of clothes that were old a year ago and replacing them, and canning, dehydrating and even preserving food. I feel driven to, although it's a lot of work and not necessarily CRPS-friendly tasks.
J cannot fathom why I'd be cooking in this heat, let alone making heavy, hearty food like bacon mash.
He's cutting firewood instead.
Yeah, I know. We're both kinda special.


I have 4 blog posts almost ready to go up, but I keep making the mistake of starting my online time at social media. Within minutes, my attention is shot. I can't finish a blog. I can barely finish a sentence.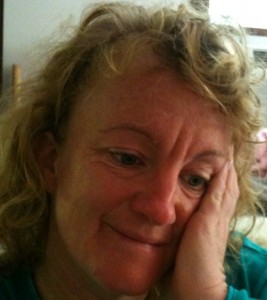 This is the first vaguely functional day I've had after a spectacularly ghastly mast-cell-mediated flare.
Silly me, I ran out of my zyrtec (which I didn't take very seriously; it's not important like an SNRI, right? HAH!) and spent one day incoherent and two days merely swollen, crabby and able to cope only by losing myself in mindless tasks or Terry Pratchett books.
Took a day to figure out what was wrong. Partly, that was because I didn't realize how much the zyrtec was doing for me, and then, of course, there was the headache that made me want to hack off the offending part, which made it quite hard to reason things through.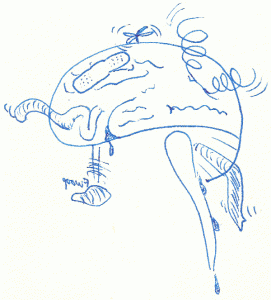 J is still avoiding me, hiding in the trailer with the tv when he's not actively butchering logs. It's possible this chicane isn't over yet; his behavior is usually a reasonable guide to how unbearable I am.
I only took one zyrtec today, as my stomach would not even think about more. In a couple of days I may be back up to my usual 2. It will be nice to have normal fingers; reasonably functional digestion; less inflammatory pain playing xylophone on my spine, with rimshots off the other joints; and maybe a calm and considerate personality again.
Anything is possible.

Isy's anti-inflammatory mashed potatoes
Obviously not for those with belladonna sensitivity.

5 pounds organic red potatoes, cleaned and coarsely chopped
Turkey broth
1 organic white onion, diced and lightly browned
4 oz grassfed butter, like Kerrygold or Organic Valley Grassfed, in chunks
10-12 oz grassfed aged cheddar, like Oscar Wilde 2 yr, Cabot Extra-Sharp, or Kerrygold aged cheddar, sliced or chunked
Optional: nitrate-free naturally-raised bacon, like Niman Ranch, cooked until very crisp, then drained and crumbled fine

Steam the potatoes in the turkey broth.

You might need to assemble the rest by halves, depending on the volume of your mixing bowl or blender.

Dump the rest of the ingredients into a mixing bowl or, if you have a really good blender, use that instead. Put the potatoes and broth on top, so the butter and cheese start melting under them and make it blend better.

Beat or blend until it's the consistency you like.

Enjoy it nice and warm on an achy day.