Complex Regional Pain Syndrome is the latest in a long line of names for this disease. Some of the older names have been recast to cover aspects of it, or versions of it, or special cases, and of course there are overpaid people who argue about it intensely. I'm going to go out on a limb and list a few sometime-names, sorta-names, and related-names to go on with:
Complex Regional Pain Syndrome
Until recently, there were two subtypes: Type 1 had no visible nerve damage, Type 2 did. However, with chronic CRPS, there is extensive and pervasive nerve damage, and it makes no difference in treatment after the acute stage, so this subtyping is widely considered irrelevant.
Sudeck's atrophy
No longer used; atrophy of bone and muscle is really symptomatic, and not always present.
Causalgia
No longer used, except as an old name for CRPS type 2.
Reflex Sympathetic Dystrophy
Used by old-timers and sometimes for CRPS type 1, although CRPS-1 is not necessarily maintained by the sympathetic nervous system.
Algodystrophy
More often used in Europe; also, neuroalgodystrophy. Problematic because it implies that this is the result of autosuggestion. I know I could not have made this up in a million years; moreover, extensive analyses of the literature show that there is simply no truth to that.
Neurodystrophy
More often used in Europe. It's a perfectly good name, but not the one that the IISP paid a bunch of specialists to come up with)
Reflex neurovascular dystrophy
RND; no longer used, because it only addresses vascular changes, not neurology or systemic issues.
Shoulder-hand syndrome
No longer used, except to refer to upper-body chronic neuropathic pain while dodging a CRPS diagnosis.
Peripheral trophoneurosis
Good one, eh? No longer used, both because it may spread out of the periphery, and it's not about neurosis. See "algodystrophy" above.
For more on comparative naming and different nations' approaches over the years, check out the RSD Canada site.
A certain amount of acute CRPS does clear up (or go into remission) before it's even diagnosed. Since it can take years to get diagnosed, there's not a good way of figuring out what those numbers might be. Even after diagnosis, acute CRPS can go into full remission and never show up again, before it becomes the ground-in form of trouble I call chronic CRPS.
In its chronic form, CRPS is a disease of dysregulation — of everything being thrown off balance. Our efforts to push back against any given part of that are quite likely to throw our systems off balance in some other way.
The body doesn't balance simply, like a seesaw; it dances in 4-D homeostasis, which I've explained here. It's a bit more like this:


Now imagine pushing one of those trapeze bars the wrong way.
Adjustments need to be carefully incremental in order not to distort the system further, but often need to be done quickly because the situation is so horrible to be in.
It's a conundrum.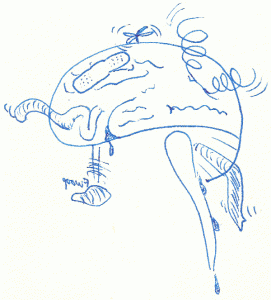 Personally, I'd like to have different names for acute and chronic CRPS. Here's why:
Acute CRPS is all about the pain, with swelling and dystonia and circulatory high-jinks playing second fiddle. With acute CRPS, good results are consistently found with vitamin C (500 mg twice or three times daily is the usual dose range) and also with activity plus pain control, both quite aggressive.
Apart from that, therapies vary widely as to what will work with whom, but chances of remission in the first few months are very good, and in the first few years are still comparatively good.
After that, the whole situation changes.
With chronic CRPS, you realize that you have to find a way to live around the pain because so many other things are going wrong, life itself has to take center stage at some point, and pain has to take its turn in the wings.
Once the brain plasticity has gotten going, it's no longer just a pain disease, but a disease of dysregulation, as the signals change and the body's responses to the signals change and the brain's ability to even recognize appropriate responses to temperature, circulation demands, sensation, perception, and so forth, all slide downhill.


In acute CRPS, having the word "pain" in the name is absolutely appropriate, because that must be addressed to let the brain reboot and get back to normal.
In chronic CRPS, pain often remains a huge part of it, but the central brain-changes are what creates and sustains the disease state. Pain is, clinically speaking, a ghastly distraction.
It's a key symptom, a good guide (since muscle weakness, sweat and circulatory changes all tend to track to it at least some of the time), but it is not the driving force of the disease. The brain changes are.


Pain is terribly seductive to researchers, because people who don't have chronic CRPS think they "get it" about pain (hah!) and, since that's easier to relate to than the word "complex," let alone the hopelessly misunderstood terms "regional" and "syndrome", what they focus on is the pain.
The real problem is the brain, not the pain.
In my private internal world of reason and order, chronic CRPS is actually known as Complex Neuro-plastic Dysregulation, CND.
My eyes make words out of letter groups, usually just by adding a vowel. What comes to mind for me is, if you don't win at CR[a]PS, you get C[a]ND.


Makes all kinds of sense to me 🙂