After the ghastly fiascos of last year, imagine my overwhelming relief to finally — FINALLY! — find a clean, safe place to live, in one of my favorite towns in the world.
The past weeks of unbudging exhaustion — starting from roughly the time everyone in the building got back from their holiday vacations — I put down to my body going into a "deep recovery" mode after the astonishing stresses it survived. I knew neighbors had wifi, as most adults do in this country, and noticed I felt better in the sunny side of my bedroom — behind an enormous brick wall, as the bedroom is an addition built onto a century-old, balloon-built brick building — so I've been spending a lot of time sitting there, letting all that earthing happen between me and the wifi signals.
Today, more or less out of the blue, two or three neurons fizzed together and I realized there was something differently-familiar to this feeling of having had all the air let out of my tires and my batteries totally drained. There was a knot of yuk behind my xyphoid — right about where the vagal nerve comes through the diaphragm and shakes hands with the stomach on its way past — which has rarely gone away.
Following these clues — my neighbors getting back, the bitter exhaustion, the yuk behind my xyphoid — I pulled out my elderly-but-spry laptop and asked it about the wifi signals it can see.
Here is what it sees in the living room:

Here is what it sees in the bedroom, behind the double layer of brick wall with a door in the middle:

That one bar of difference is definitely palpable, to me. Also, I know that one of my near neighbors has turned off their wifi right now (bless them!) because there's sometimes another network on this list which has all 5 bars when it shows at all; it chases me right out of the living room because I can feel it like an incoming missile to my gut.
This exercise simply goes to prove my longtime suspicion that, indeed, wifi is the Un-Healer for me. I can't get off the couch for long, simply because I'm being soaked in it all the time.
Give me a moment to get myself together, please. This is tough.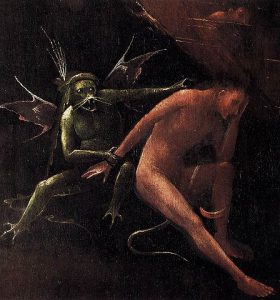 It could be worse. I could be unsafe, breathing mold, AND being soaked in wifi.
Solutions
First, a key term:
Faraday cages are structures that use particle absorption, grounding, or deflection to create a radiation-free space inside. I'd expect to incorporate all three elements, for a more durable and predictable kind of protection.
Grounding
There are some low-tech, lower-cost things to try that can have the effect of minimizing my exposure to wifi signals:
– Grounded skin, that is, a grounding mat I keep my skin connected to, to carry away the signal before my body takes it up much. I haven't had terrific results from these yet, but I may have gotten a bogus mat before. I'll experiment with wire and foil before investing in anything better.
– Rad sinks (already in place), a mass of metal dense enough to act as its own ground — in my case, big heavy old-fashioned steel filing cabinets. I should really paint them thickly in matte black to get the best results (preventing signal-bounce), but it's hard to think of a less useful work-setting for a colorist like me. I'll keep thinking about it, though, because I'm pretty sure it could help.
After that, it gets a bit more iffy vs. more expensive.
Shielding
Make a Faraday-shielded pod I can pick up and move around, and sit in when I'm doing anything for long. Given the inexpensiveness and availability of pop-up structures, black felt yardage, and that shiny mylar stuff, I could cobble that together, probably with a zipped door and a couple of battery-powered computer fans. But dayum, would that be claustrophobic, gloomy, noisy, and a space-hogging eyesore! Also, it would render most furniture effectively unavailable for shielding time.
I've tried rad-blocking clothing. This poor challenged body needs a good few feet between my skin and shielding, or the feedback gets incredibly painful. Can you imagine that thing that microphones do with feedback, happening to your spine & everything connected to it? Yeah, that'd be cute by comparison to the experience of me wearing rad-blocking clothing for 5 minutes. So, rad-blocking clothing is not an option for me.
– Creating a shielded-fabric blockade around my bed, looking rather like a mosquito net but costing the equivalent in silver netting, which it often is. Silver is an excellent conductor. If properly grounded (always a consideration for a Faraday cage you want to use for more than an hour!) this can, at least, create a low-rad place to sleep that still has air flow — and room for the cat. It's not the total radiation seal that a proper Faraday cage should be, but it's a compromise that works well for many people. I can certainly tell if it needs to be better sealed for my purposes; boy howdy, is that clear to me now!
Shielding & grounding my whole space
Then there's the costly, smelly-toxic, protracted option of having a minimum of 2 good coats of rad-blocking paint (at ~$200/quart, I'm guessing a total of 5 or 6 gallons for these high ceilings, plus the ghastly oil-based primer required), securely wired into the building ground at appropriate points by an electrician ($1k), with adequate layers of 3M UV-filter film ($?) cut to fit every single window ($hundreds for labor, because I can't do that), the sashes of which will also have to be painted or filmed over… And do something to cover the gorgeous old maplewood floors to block rad bounce from the basement. That, given my abiding love and admiration of maple in every form, would be absolutely criminal.
So, that's not going to happen.
Or, of course, there's the prospect of moving again, to which my internal response is way out of the decibel range that blogs can carry. I have JUST gotten my hotwired system to stop leaping awake every hour or two, convinced I have to pack and move again. I really need not to move for a good while.
This is a great place in so many ways, and I really like being here right now. I aim to make it work.
I project that my solution, whatever it is, will be a compromise, like this home — so much going for it, but still missing crucial elements. I'll have to come up with something that will protect me enough to heal while I'm here, since that's the point.
First steps
I think the first thing to do is shield the bed. Like I said, not perfect, but it should improve my overnight recovery-time. The means to do that is readily available and I already know the better makers and materials-technology. I could probably get that up in a week.
After that, I'm thinking portable pod, big enough for a chair inside with a little writing desk. Might rig up a window or viewing port, using something reflective but not too dark.
Any engineers want to come play with these ideas and problem-solve here? 🙂