As many physicians have noted, treating chronic pain is peculiarly frustrating. Therefore, treating a pain condition as subtle, complex and intransigent as CRPS must be heartbreaking — though it's never as bad as having it.
Don't get me wrong
If you say hello and I take a ride
Upon a sea where the mystic moon
Is playing havoc with the tide
Most of us live in countries where there are practical limits on who we can see for care. Since there are few CRPS experts to start with, this tends to put us in tight spots.
So, meeting a new doctor, as many of us have said privately, is a bit like being a bride in an arranged marriage in a backward society*: you have no idea how you'll get along, but this person is not only going to have a significant role in defining your life for the foreseeable future, but can torture and even kill you without any fear of the law.
It sounds dramatic, but that's the bottom line. Think about it for a minute…
For one thing, nobody likes being in so vulnerable a position. For another, we've all paid the price for some practitioner's ignorance or intransigence, somewhere along the way. The fears are not theoretical; they're real and appropriate.
Suddenly the thunder showers everywhere
Who can explain the thunder and rain
But there's something in the air
Add to that the fact that chronic CRPS tends to hot-wire the fight-or-flight mechanism, and you have to realize that the doctor is facing a situation that requires about a million times more tact and respect than they ever learned in medical school.
Don't get me wrong
If I'm acting so distracted
And then there's me.
I used to be an RN, so I can use med-speak fluently and, more to the point, I've got the background to understand the scientific material I read when it's time to explore a new facet of this condition.
I was dealing with a full-bore case of ADD due to the mechanical and chemical damage of chronic CRPS. At the time, I wasn't sure what to make of my psychiatrist, Dr. Todd Hutton. He's so quiet that I simply couldn't get a bead on how much attention he was really paying to what I was saying.
I was beginning to suspect that he was at least awake, which is a huge bonus in my book… But I had to have my duckies in a row, just in case.
Don't get me wrong
If I split like light refracted
I'm only off to wander
Across a moonlit mile
Everything about CRPS goes off in different directions, so studying it is like working with refractions.
I studied up on the nature of the brain oddities that characterize ADD.


Figured out where they overlap with the brain damage caused by chronic CRPS.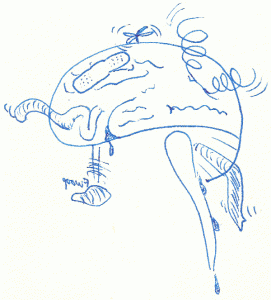 Then it was the neurochemistry.
I have the neurochemistry of CRPS pretty well nailed, and found that, again, the overlaps with ADD were astounding.
How much of that awful, crippling fog we call "pain brain" is a treatable form of acquired ADD?
Do we really have to live like that?
I might be great tomorrow
But hopeless yesterday
I'm not so sure any more.
Then I looked at treatment modalities for ADD.
The cognitive-behavioral stuff — like structuring your day, having contingency plans, staying in charge of your emotions, and creating ways to check yourself and to take care of yourself when things go wahooni-shaped — are pretty much identical, though CRPS adds a lot of material about pacing, communicating about functional and pain levels, and managing physical limits.
The pharmaceutical stuff has some interesting overlaps, too.
Aside from narcotic pain control (which isn't much good to many of us), treatment for CRPS neurochemistry tends to focus on serotonin, norepinephrine (noradrenaline), and dopamine; treatment for ADD neurochemistry tends to focus on epinephrine (adrenaline) and dopamine.
More overlap, or is that just a coincidence? Hah! No such thing, when we're treating the brain.
So, after traversing my "moonlit (or candlelit) mile" of research, I showed up at the psychiatrist's office with the following info:
 It's probably related to the CRPS. (Nod.)
 It's probably treatable. (Slightly qualified nod.)
 I can't have Adderall, et alia, because my heart is dicky enough as it is. (Firm nod.)
 I could face Ritalin, et alia, but I'm already on Savella, which also boosts dopamine. (He shrugged and said, "Same molecule, different location.")
After a bit more backing and forthing, he said, "How about Provigil?"
I'd seen a friend get hooked on it, so I didn't leap out of my seat, but we talked it over. His reasoning was faultless. (Something I almost never say.)
More than awake, he was really engaged with my case. So I took the leap of faith and said I'd try it.
He said he'd supply me with samples of Nuvigil (a longer-acting form) since the maker no longer supplies samples of Provigil. (Pharma companies only provide samples of what they still have under patent. They're in it for the money, remember…)
Don't get me wrong

If I come and go like fashion
I had the singular pleasure of going in for my follow-up, dressed professionally for a change, and reporting that:
+ I had enough energy to get outside and move around nearly every day. This means laundry gets done, there's proper food in the house, and I can get some of that so-necessary exercise.
+ I had enough focus to put together a settlement offer, which the insurance company accepted. (WOOT!)
+ I could change focus at need.
+ I was driving better, thinking strategically and more able to pay attention to what was going on around me at high speed.
+ I could sleep better, because I'd been properly awake and engaged during the day. (OMG!)
– My anxiety was no worse, but when it did kick in, it was harder to get it to chill. That was one drawback, but not a major one.
– Nuvigil tends to build up in my system, until suddenly I can't sleep at all. It took about 5 days to clear it after that. So now I take half a tablet (that is, about 75 mg) every other day. That works quite well.
+ It's not perfect — it's not like being well — but I'm so much closer to being myself that I can actually think about what to wear again. (I used to be kind of a fashion plate, in the intersection of classic, practical, and colorful, with a dash of steampunk.)
I told him, "Love and the relationships I have make life bearable. But being able to think, and be productive, and learn things, and get some work done, THAT's what makes my life worth living. This is giving me my life back. I'm really grateful."
If I hadn't grown up in New England (land of the unspoken), I might have missed the slight lengthening of his spine, the slight lifting of his head, the slight brightening of his face, the tiniest lift of a smile.
For once in my life, a doctor of mine got to feel like a rock star.
It might be unbelievable
But let's not say so long
It might just be fantastic
I got into the car and drove away on a shiny September afternoon in Pasadena.
On the radio, Chrissie Hynde was belting out,
Don't get me wrong
If I'm looking kind of dazzled
And it put the seal on everything.
For a moment, I tried to stifle the beaming joy that shot through me. Then sanity intervened.
What I wanted to do was pull over, slap on a headset, and dance on the glittering lawn in front of City Hall, arms wide and the sun sparkling through my starry lashes.
I wasn't sure the police would understand, though.
Instead, I danced in my car, grinning fit to split my head, bouncing my red SUV to the Pretenders.
Drawing smiles even in LA traffic.
Sometimes, the only right thing to do is dance.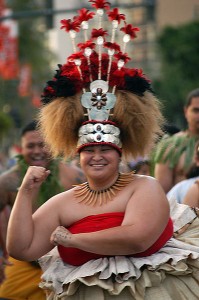 Here's the whole song. At first, I thought the visual story, with its false leads, dead ends, and triumphant ending, was distracting — then I thought about it for a second… 🙂
* Common sense note: obviously, not all societies that practice arranged marriage are backward. I know too many couples who have an excellent partnership and tons of love between them, who were picked out for each other by their nearest and dearest. It's not arranged marriage that's the problem, but those situations where there's a lack of choice and utter helplessness of one partner. That's what's backward.