Don't you love the change of season? Especially here in Middle Cali, where there's a hint o' green to mark the second of our two seasons — Drought and Mold.
But seriously… I just had my first blueberry-clove shake in awhile, and boy am I glad I remembered about them. I'm actually stringing a thought or two together. Not eloquently, but let's not be fussy, ok?
It's worth noting that I'm staying off social media until I've finished a couple of very important projects. I'm using my brain time in a highly focused manner.
Why? Because the seasons are changing, the barometer is bouncing around like a honeymooner's pillow, the solar radiation (between eclipse, sunspot the size of Jupiter, and X-class flares) is doing the hesitation waltz ALL over my nervous system, and my otherwise lovely partner is genuinely addicted to TV so I have that constant, impersonal nag grating against my brain.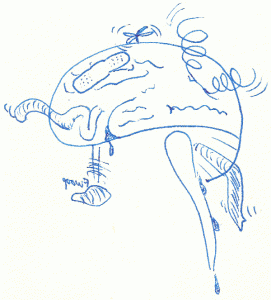 If I weren't so well-equipped with irony and sarcasm, I'd be howling like a princess with a split nail right before her prom date.
So I remembered about my blueberry clove shakes. This reminded me that I need to prepare for the REALLY hard times that winter brings. And that made me think that there are a few principles to keep in mind for my dietary framework:
Vegetables. Lots of healthy vegetables.

I have that covered for emergencies already: vegetable juice with one of those thought-out "super green" organic powders (my choice is Garden of Life's Perfect Food.)
Anthocyanins in ridiculously strong doses. This is key for my brain function. Huge.
Something for bad pain.
Something for bad pain with a different protein profile, to lower the risk of developing an allergy.
Immune support. Winter, right? Virus heaven.
Brains which are under siege need appropriate saturated fats. I know, I know, we're told they're bad. Back up a bit and take a look at that, because it doesn't hold up to closer inquiry. What we don't need are INappropriate saturated fats, which, admittedly, are most of the ones in the grocery store.
Chocolate, coconut oil, organic palm oil, and pastured butter are appropriate fats. These are well within the kinds of foods we have been eating for thousands of years, if not longer.
One reason why a bite of something fatty is like an instant lift. The saturated fat goes right to the brain's pleasure centers. The brain knows what it needs, and we're wired to like it.


It's up to us to use appropriate forms of fat, which our bodies can reliably use.
When I'm fighting off a virus, I crave raw coconut, coconut oil, coconut butter, or coconut milk with a gnawing passion. I'm old enough to do what my body tells me to. Interestingly, studies are coming to light showing that just the coconut oil has real benefit for fighting off viruses, among other things. Imagine what we'll find in the rest of the nut, one day.
For pain, I find that half a tablespoon of 100% grass-fed/pastured butter is better than a pain pill. (It cuts the pain dramatically but doesn't make me goofy at all.) It doesn't always last for more than a few hours, but there are no side-effects that aren't healthy: it makes my heart stronger, helps stabilize my immune system, and reduces my tendency to pack on weight. I've found this to be consistently true over the years, and, since it doesn't match our expectations of dairy fat, I checked the science.
For a fairly extensive and science-supported discussion, look here. I'll provide some highlights.
100% pastured bovine fat, of any kind, is such an effective anti-inflammatory that it can reverse heart and vascular damage. I'm not sure why it helps moderate my weight, but I suspect it has to do with cleaning the metabolic pathways.
Conventionally-raised or grain-finished cattle are sensitive to grain, as a species, so they have ongoing low-level immune responses to their feed (even without the steroids and antibiotics normally used in beef and milk production.)


Naturally, the histamine outfall, metabolic garbage, and fats get stored in their flesh, milk, and fat.
That's how animal bodies work — a lot of stuff gets concentrated in our flesh and stored in our fat, and if what went into us isn't right, what gets stored in us isn't right, either. That's why people pay so much for the grass-fed stuff.
Now you know 🙂
Getting pastured butter is not hard. In Ireland, grass is cheaper than grain, and (unlike New England or Wisconsin) it's available nearly year-round.


Next time you're at a major supermarket, grab yourself a block of Kerrygold butter and try a slice on some non-inflammatory food, like a dish of steamed veggies.
Go on, try it…
Now you know what's behind the recipes I'm going to post next.