My pain psychologist is very insistent that 90% of my day has to be predictable. This allows my nervous system to heal and re-stabilize to the extent that it can.
I cannot even fathom that. 90% of my day? Do any of you have those kind of days, ever?
She's been right about everything else so far, so I'm working on it.
Trying to bring stability to any single part of my life brings the inherent instability of life into high relief.
Every commute to the doctor's office is a crapshoot. There's no knowing just how long it will take, if there's parking on the other end, whether anything unpleasantly LA will happen along the freeways on the way.
.
Every trip out of the house, with all the neighborhood dogs and the roads being under construction here, puts the rest of the day on hold until further notice. Especially when my judgment is in the hopper because of pain, dysautonomia, or not being able to eat enough to prevent hypoglycemia.
.
Every day is a mine field of discovering things I've forgotten and have to find a way to deal with, trying to clean up the past while coping with the present and preparing for the future.
It's heartbreaking trying to keep up with this, but I can't stop. This disease never quits. It never gives a break. I must try to keep up.
I thought I was stubborn. I thought I was adaptable. I thought I could be relentless. I have to say, this condition puts me in the shade.
This is one of those articles I wrote to help myself find the nugget of gold. I'm still looking…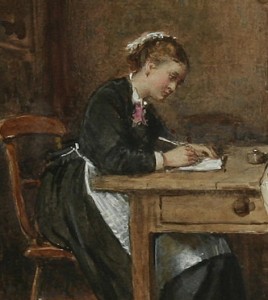 I'm in a very small glass today, but that doesn't change the scope of work — just what I admit I can do.
This relentlessness, this bitter intransigence, is part of any chronic disease. We find ways to cope, or we don't make it.
I deal with weakness by learning to ask for help;
.
I deal with bouts of forgetfulness and confusion by automating as much as possible and using external aids like a whiteboard, checklists, post-its and the apps in my smartphone;

I deal with the heart, lung, and endocrine issues by finding new ways to do things, and rehearsing constant self-control in every single freaking aspect of life.
It just wears on me sometimes. It's a lot to expect of myself day after day after day after DAY.
Perhaps the nugget of gold is simply taking credit for my imperfect, ongoing attempts to manage an impossible body of work: staying alive and on the right side of the ledger, and trying to make it bearable. It takes some doing, and yet I'm here now. The future terrifies me, but so it goes.
Marathon update:
A bloody pair of athlete's feet, with ringworm that's trying to consume my right foot, both fungi profoundly resistant to treatment… Have been joined by an ingrown toenail which looks like a grandchild of The Blob… Which itself is hosting cellulitis.
So I'm off my feet for the most part, wearing slippers when I must walk. I have to knock the cellulitis back by Friday, so the ingrown (which is an outgrowth) toenail (though it's really the flesh) can be cut away, and part of my nailbed stripped. All those loverly nerve endings…
It's going to be a rough weekend. Perhaps I should just have it all cut off, ha very ha. Too bad that makes things worse in CRPS.